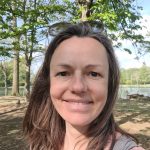 SOMATIC EXPERIENCING PRACTITIONER I.T. AND PERSONAL, LIFE AND EXECUTIVE COACH
Viktoria is a personal, life and executive coach and somatic experience practitioner i.t. and works also as a "contextbegeleider". She`s been a passionate yogi & yoga teacher for the last 10 years and her speciality is the Aerial Yoga practice. Next to that she`s co-founder and owner of AyurYoga and her vision is to create a collaborative space and build community. Viktoria is a dedicated dancer and, on her path, to become a 5 rhythms teacher.
She is enthusiastic about the work with people and loves to be their companion on their healing journey and support their individual process.
"Holding the space for you and being present with you is like holding your hand and being your ally in whatever you encounter. We walk your path together."
Sessions are offered in English, German, Croatian and Dutch.